MOBILITY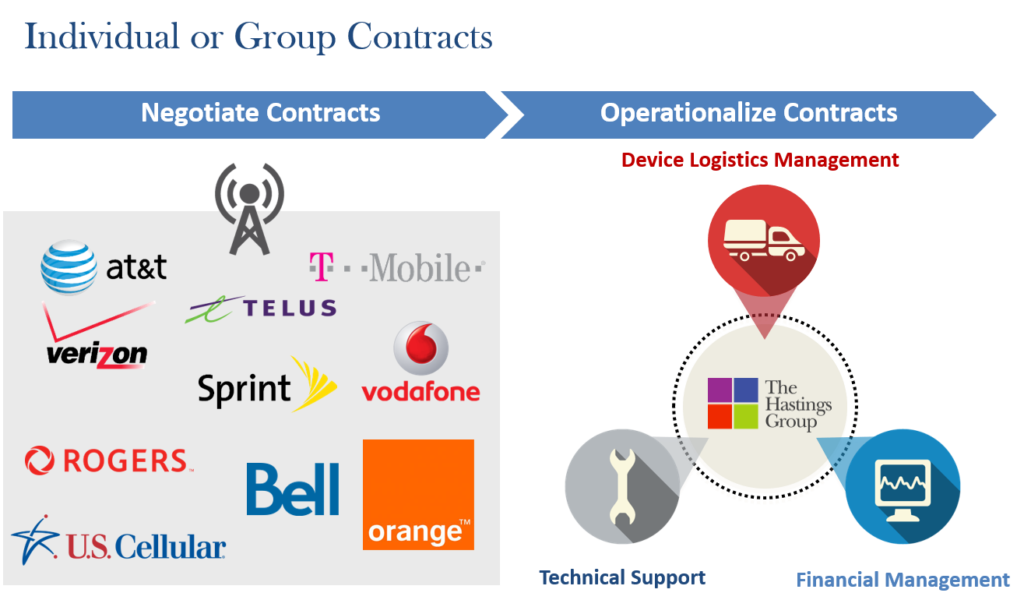 Mobility Solutions:
Contract Negotiation –
Finding the optimal contract for your organization requires a deep understanding of your existing mobile use cases, demand & usage patterns, spend, desire to expand mobility usage for competitive advantage, tolerance for new technology adoption and growth. We leverage group contracting where appropriate and negotiate every nuance of mobility agreements across US, Canadian and European carriers for your advantage.
Mobile Financial Optimization –
Now that you have great contracts, we need to operationalize them to minimize cost to meet your business needs and goals.  Many firms attempt to do this with software, it doesn't work, the mobility marketplace is too robust, and change occurs daily.  Our team of Senior Financial Analysts understand what is in your contracts and leverages our proprietary optimization techniques for your benefit.  We also have comprehensive knowledge of the vendors back-end billing systems and make all recommended and approved changes for you, insuring the savings materialize.  In today's market, it is imperative to manage not only the carrier costs, but also device costs as they have become a material percentage of overall spend.
Logistics Life cycle Services –
This is not glamorous work, but needs to be done every day, and needs to be done well.  Our BPO software assists in the management of large mobile estates.  Software only does so much, strong corporate policy and managing to policy are of paramount importance.  We integrate all major HR and Finance systems into our toolset to insure inventory and asset management is accurate and up-to-date.  Costs are charged to various individual contributors and departments or locations as you see fit.  We recommend cost allocation models to drive user behavior and insure usage is for business purposes.  Complete MDM management, asset tracking, configuration, accessory integration, hot-swap spare pools and certified recycling integrated into overall program.
Call Center Support –
We joke about a being a call center that doesn't want to take calls. Fielding calls and providing end-user support is a necessity and we do it well. First Call Resolution percentage, Average Speed to Answer & Resolve, Abandon Rates, Average Talk Time and others are all important metrics. These are all measured and managed in order to get end-users productive quicker. Our strategy is to provide all the information end-users need to perform their specific job functions and interact with the technology and systems to them in a clear, concise manner in order to avoid the need to call. Information dissemination and education eliminate a significant percentage of calls and keep users productive longer in the field. For those that want to call, we are there for them 24x7x365.
Mobility for Competitive Advantage –
How can you leverage mobility and new 5G technology to be better, faster, more agile and more responsive to become more pro table and provide an enhanced customer experience.  With M2M, IoT, logistics and transportation solutions being deployed daily and the speeds of 5G coming over the next year or two, many opportunities will allow small, nimble firms to compete with those much larger.
BYOD –
There is constant chatter about BYOD providing cost savings and eliminating support responsibilities.  The reality is that these programs do NOT save money organizationally and cause GREATER support for the enterprise.  The two main items BYOD is supposed to solve, typically become costlier and more complex when implemented.  We have proven time and again that well negotiated corporate contracts, strong corporate policy and sound operating practices, allow for greater cost control and end-user productivity.  For those that desire BYOD, we offer many flavors to satisfy various goals, including an integrated web portal with "white-glove" call center support with better offers than the carriers themselves.
Factory Floor & Warehouse Logistics & Asset Management –
Many businesses have a variety of investments in factory and warehouse logistics systems, technology deployed, and processes geared towards "making the best with what we have". This typically leaves great opportunity for improvement in inventory and asset management, logistics and warehouse work ow and RFID and barcode tracking. If you have challenges at one or many facilities, we can quickly perform business process reviews for each, design solutions and deploy appropriate technology, applications and professional services to solve these challenges, as well as provide on-going support.